Register & Sign Up


Let's Do it!
Sept 27th – 30th, 2018
Experience the beauty of Colorado during its most vibrant times of the year!
Join Mike Jensen on a dream photoshoot in the Rocky Mountains!
This workshop/photo tour will take you to some of Mike's favorite places to photograph Colorado Fall Colors!  If you've ever wanted to experience the Best of the West, THIS IS IT!
From $499


Experience The Beauty

---
September 27 – 30th, 2018
Affordably priced for Kansas City camera club members, this photo tour and workshop is perfect for those wishing  to have a professional photographer and teacher as a guide!
Shooting Locations
O

wl Creek Pass (Cimmaron to Ridgeway), Based in Montrose
Ohio Pass/Kebler Pass,Based in Gunnison
Optional Shooting Locations (Additional Charge):
Rocky Mountain National Park
Maroon Bells/Maroon Lake, Aspen
Anyone with a DSLR camera and a tripod will LOVE this photo tour/workshop.
If you have a desire to go off the beaten path, but don't know how to get there and what to do when you find it, this is the trip for you!
A TEACHING PHOTO TOUR
As we travel through the Rockies during our field shoots I will teach and talk you through the shot opportunities I see.  There will be a lot of  frequent stops!
Photo Teaching Techniques
The entire trip, in all locations is lush with a variety of photo techniques including:
Composition
Panoramas
Macro
Stack Focusing
Use of Graduated ND Filters
Proper use of Polarizing Filter
Time Lapse
Night Photography (Weather Permitting)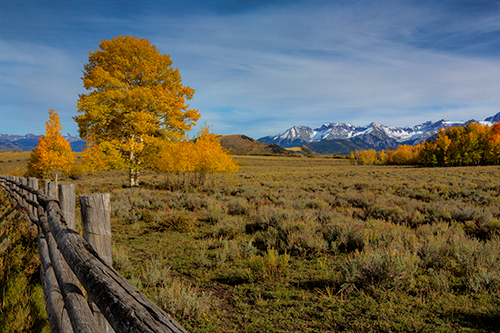 Composition
Composition is the most important thing I can teach when in the field! I can't tell you how many times I've been on a workshop, shooting the same subject from the same place and the shots that seem to WOW the group are the ones in which composition has been considered the most.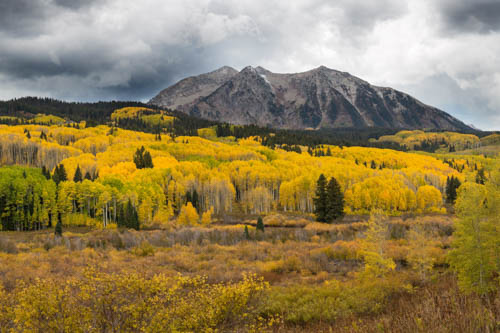 Panoramas
This area is just filled with Panorama opportunities! I will teach you how to set up, how to compose, how much coverage to get, how much overlap, and then how to process it when we get back.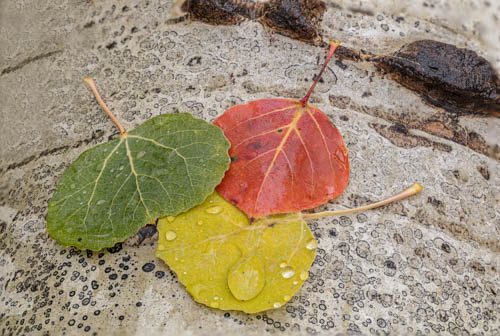 Macro In The Field
The Colorado Rockies also have tremendous opportunities to create fine art macro images in the field! The shot on the right is a stacked focus macro shot.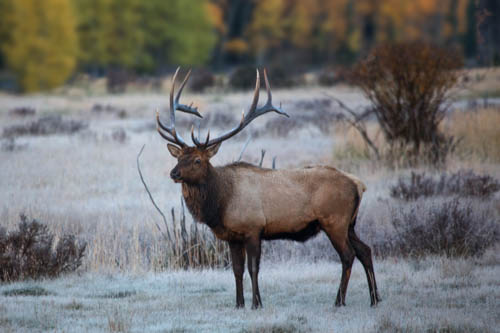 Wildlife
I've never been in the Rockies for a fall color shoot and not seen wildlife. Our opportunities are better in RMNP because that's where the big animals are!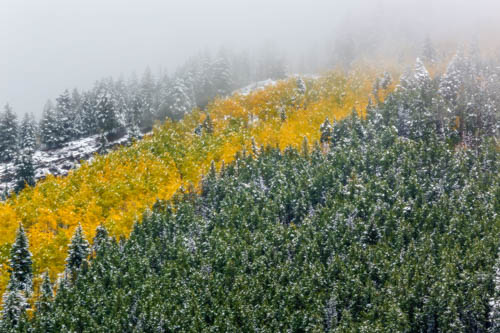 Weather
EVERY time I've been to Colorado for a fall color shoot I've encountered snow. Most of the time it's been in the higher country but last year it fell at 6,000 feet elevation! It really created some cool images!
Sept. 26th – Travel on your own to Montrose, Co.  I will forward lodging suggestions
Sept. 27th – The experience begins early on the morning of Sept. 27th out of Montrose, Co.  We will travel (car pool) across Owl Creek Pass from Cimerron to Ridgeway North to South.
We will be up early (4-5am).  It takes about 45 minutes to get to Cimerron.  Then we head south on the ranch road which leads to Owl Creek Pass.  This road is filled with photo subjects from Bugling Elk, Horses, Coyote, Bald Eagles, as well as sweeping landscapes, rivers, streams and a few high mountain lakes.  We will make many stops where ever we see photo ops.
Sept. 28th – Today we will travel over to the town of Ourey and then to Telluride making stops anywhere we see photo ops.  There's a waterfall photo op in Telluride.  The only way to get back is to go back the way we came.  Alot of time in the car but worth the view!
Sept. 29th – Today we travel from Montrose over to Gunnison (or closer to Crested Butte if we can get affordable lodging).  We will leave early (4am) as it is a couple hours drive.  On this day we will go to both Ohio and Kebler passes, Rock Stars in the view, vista and photo world.  If weather permits, we will try for a night shoot of the stars tonight.
Sept. 30th – Today we will travel down Mt. Washington Gulch & Gothic Road out of Crested Butte.  These are prime ops for close ups of white Aspen bark, sweeping vistas of the back of Maroon Bells.  This is one of my favorite places in the world to hike and photograph.
Oct. 1 return home.
---
The workshop/tour fees are as follows:
$499 - Camera Club/Gallery Members/Previous Students
$749 - For Non-Members or Non Former Students
---
This is a small workshop/tour, not to exceed 10 people.
To sign up, please complete the form below.  Upon completion you will be directed to pay for registration.
You will be charged a non-refundable registration fee of $150 for Camera/Gallery/Former Students,
and $300 for Non-Members/Non Former Students which will hold your spot.
The balance of your workshop fees will be due by 5pm Sept. 14th, 2018.
If for some reason, the workshop is cancelled by Mike Jensen Photography Workshops, your entire deposit will be refunded.