Only $89 for local camera club members, and only $109 for non-members
 Saturday November 28th,2020  (Photoshoot) 4:45-9 pm
Wednesday December 2nd  (Edit/Critique For Both Sessions) 6-8pm on Zoom
---
This is a perennial favorite for all photographers but few know how to catch the spirit of the Plaza!
Learn how to choose the appropriate lens, aperture for depth of field, location for lighting, photographing the horses and carriages! Learn how to create those beautiful starbursts in the street lights and lamps.
Also, learn Mike's tried and true method for making skies that have twinkle, twinkle little stars!
Oh yes, and managing White Balance! (Yes it's imperative on the plaza).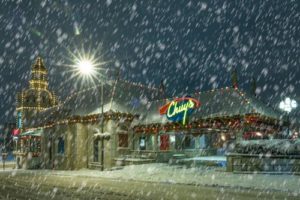 Affordably priced for Kansas City camera club members, this workshop will teach you:
Technical knowledge for photographing twinkle lights at night

ISO, Shutter Speed, Aperture

Compositional insight
Mike's key methods for equal tonal values
Importance of White Balance in photographing in urban settings
Use of various filters to help with exposure
Editing
The second part of the workshop will include a critique of your photos and editing instruction in LR/PS
Use of Lightroom & Photoshop to properly edit your photos for presentation through digital projection or print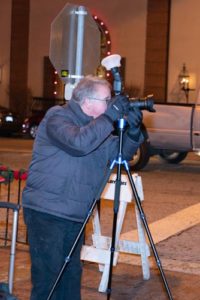 This workshop should be a fun one for ALL skill levels from beginner to advanced/professional.  Ideally you should have the following gear to maximize your learning experience.
DSLR camera

Ability to make up to 30 second exposures

Tripod

Tripods are a must for stable and sharp images.

Flash might be helpful, but in now way is necessary
Neutral density filter would be helpful to help slow down exposures for longer, silkier water.  A polarizer will also do the trick.
EDITING
Mike uses Lightroom and Photoshop for editing of photographs.  The second part of the workshop will involve class participants submitting images for Mike's critique.
Mike will also demonstrate his editing technique for images taken in this workshop.  Mile will demonstrate and teach by using Lightroom and Photoshop.  If participants are not familiar with these softwares, free trials can be downloaded from the Adobe.com website.
Photo Tour/Workshop Costs
Camera Club members and previous workshop attendees get a deal here!
$89 – Camera Club Members/Previous Workshop Attendees
$109 – Non CC Members or 1st Timers
Here's the registration form to sign up!  Please complete this form.  Once you click submit you will be sent to the Paypal page for payment.
There's Always Something New To Learn


Additional Photography Workshops

---