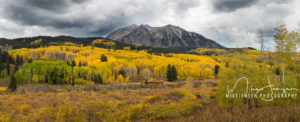 One of the annual Autumn destinations I have travelled to in recent years is in Central Colorado.  From the third week in September to about the second week in October (for late years) the Aspen, Cottonwood, Maple, Huckleberry and many other trees will be exploding in color!  It usually starts at the higher elevations first (around mid September) and typically peaks in around October 1st.  
The image to the left is the amazing Kebler Pass west of Crested Butte, Colorado.  This is a 13 image panorama.  I've been here multiple years in the fall and this is the absolute most beautiful, perfect time, perfect day I've ever been there.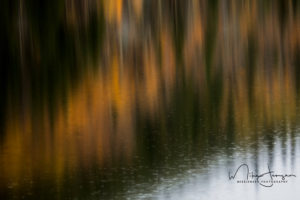 If you're not a photographer you may not be able to imagine how much planning goes in to making a trip to capture an image like this.  First you have to pick the perfect time of year, usually about a week after the Equinox.  Then arrange for travel, usually both airfare and car.  Then lodging is needed.  This year I camped with fellow professional photographer Bill Dzuik.
Next you have to hope and pray for dramatic weather that doesn't blow all the leaves away. I've been there in years with no clouds, years with too many clouds, years with snow on the mountains.   This year (2017) we had alot of storms coming through and the blue skies were a rare occurance. 
This years trip began at Bear Lake about 10 miles in from Estes Park.  It was raining, something which most tourists avoid.  For photographers, bad weather usually means good photographs.  It creates soft light and drama as evidenced by the abstract image of the fall colors reflecting in the lake during a steady rain.
This years trip was about 6 days.  We started in Rocky Mountain National Park with a goal of photographing fall colors, Bull Elk bugeling and Moos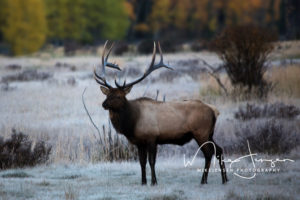 e!  We struck out on the Moose, but hit home runs on all other areas.  After Bear Lake we made the trip over to the Grand Lake (West) side of the park to look for wildlife!
The image to the left was taken at sunrise on our first morning.  It was 32 degrees and this Bull Elk was bugeling up a storm!  We continued to look for more large Bull Elk and Moose for the rest of the morning before breaking camp and heading toward Montrose, Colorado.
Montrose provided it's own challenges.  Our target location was a 27 mile long dirt forest pass road.  We were equipped with a 4-wheel drive pickup truck so we weren't too worried about the previous night's storms which left plenty of puddles on the ground and snow on the mountain peaks.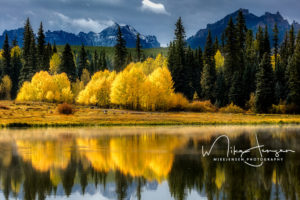 As we travelled along the dirt road we encountered some of the most unusual conditions I've ever seen.  YES!  We had plenty of yellow Aspen trees but there were also large collections of bare trees having lost their leaves in several previous storms.  Also, some groves were still green!  I've never seen this forest in this condition.  Certainly a product of extreme weather and wind!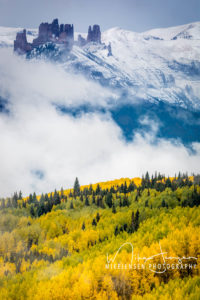 The next day I suggested we go to one of my favorite areas outside of Crested Butte.  Boy were we rewarded!  I think we picked the peak hours on the peak day of the year!  It was overcast, but the clouds had some good texture to them so it created some nice drama in the sky.  The addition of fog hovering over the ground and in the mid air really made for some great scenes for photogrphers and wanna bees!  We drove out of Crested Butte and decided to go down Ohio Pass Road.  After about 2 miles we drove around the curve and found the most amazing views!
The image to the left was taken on Oct. 1st and I think these were some of the best fall color photography conditions I've ever seen.  We had everything from storm clouds, fog, rain, sleet and even snow.  Combine that with Orange, Green and Yellow trees and we were in heaven!  Suffice it to say that we were very pleased!  
If you're intrigued by these images, please go to my Autumn Fall Color page to view and purchase these amazing images.  If you click over to that page you'll an amazing image I took as I drove across the state and encountered 10″ of snow outside Vail.
Also, please follow me on Facebook or Instagram and sign up for our email list for discounts through the year.