---
---
---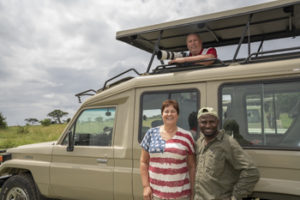 It's on ALMOST everyone's bucket list, so what do you really need to know before spending "bucket list" money on a safari trip.
This informative and engaging presentation gives you the images you want to take and the info you'll need to know before spending almost $10,000 to go on safari!
Join professional photographer, instructor & judge Mike Jensen as he shows you the imagery you dream to photograph and the reality of being on a safari in Africa.  Mike's done it, and he's going back for more!
The Not So Pleasant
Looooooong Airplane Trips & jet lag
Communication
You may have to get shots
You definitely need a passport and a visa
You should get trip insurance
Not much/very little cell phone coverage
---
"...Yes it's worth the long flight. Yes it's worth the money. YES it's worth the new long lens! YES! It's totally worth it! Don't do it without a spouse, significant other or a BFF. This is a trip that should be shared!
---
The "That's SO Cool!
The first time you see a Lion in the wild
The babies!
The Great Migration
Being REALLY close up to the animals!
The landscape
The stars at night!
Interaction with the people of Africa
---
In this presentation, Mike Jensen shares his "learned lessons" from safari in Africa.
No lens is long enough
ISO is your friend
Learn how to use video
Back button focus is a key
There are no guarantees, you may not see the animal you want to see
A good guide can find a Leopard several hundred yards away.
There's no place like home!
You can go to Africa on a variety of budgets. For a photographers safari trip, you want to go with other photographers and you want some room to spread out in both your lodging and your safari van.
How many camera bodies and what lenses do you need. What about laptops and image storage (and backup)? What about tripods? Do you need an electrical converter? (Yes)
If you've never been and want to, or if you just want to learn, this presentation is a great one for learning how to prepare for a HUGE photo trip.
Mike's Suggestions For Ongoing Improvement
My first suggestion is that you sign up for my e newsletter.  Once you do that I'll shoot you an email with several bulleted suggestions.
Also, if you're in a camera club or a civic group, I do lectures on photography and it's ins and outs.  I'd love to talk to your group!
Every month I send informative e newsletters out to my followers about once a month. My e newsletters are always full of tips and info for improving your photography as well as any upcoming lectures, programs and workshops that he may be doing. PLEASE feel contact me regarding a speaking engagement or any photography question you may have.
---
Here's an easy form to sign up for Mike's E Newsletter