River of Grass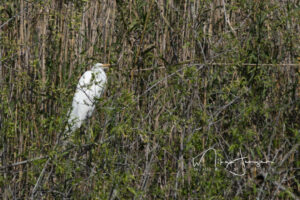 Photography in the Florida Everglades offers an expansive variety of shots from landscape to wildlife.  You'll no doubt be captivated by the wide variety of birds, reptiles and mammals to photograph and the huge sweeping landscapes are wonderful.  Wildlife is abundant. Alligators move smoothly in the sloughs, undulating their bodies slowly, only their eyes visible above the surface of the water, as turtles sun themselves on partially submerged logs covered in algae. Long-winged Zebra butterflies flutter incessantly, Ospreys call, and Anhinga chicks chirp.
Once named the River of Grass by conservationist Marjorie Stoneman Douglas, the Florida Everglades is a place like no other in our world. The Everglades is a mosaic of sawgrass marshes, pine rockland forests, tropical hardwood hammocks, mangrove swamps and coastal estuaries. It is the largest wetlands in the Western Hemisphere, and offers an extensive variety of beautiful habitat that is both wet and dry, wild and developed.
The Everglades includes four million acres, extending from Lake Okeechobee to Florida Bay and spanning the east and west coasts of the state. It contains several National Parks, Everglades National Park being the most popular. For many, it is the natural diversity of this beautiful land that is so appealing.
There are two distinct seasons in the Everglades: dry and rainy. Dry coincides with the winter of the northern hemisphere, with very little rain, chilly mornings and nights, a bigger confluence of migratory birds, and a concentration of wildlife close to the available ponds in search of food. During the dry season, alligators engineer "Gator Holes" which become refuges for fish and other aquatic species. These holes are often surrounded by trees that provide habitat for wading birds that concentrate in their vicinity.
Water everywhere marks the rainy season. Almost every afternoon brings a thunderstorm and torrential rain that lasts for only a short time and then is mostly gone until the next day, when another afternoon storm douses the land in rain. Puddles of water are everywhere, giving life to a diversity of organisms, and it is very common to see a white bird close to them, like a piece of snow melting in the heat. The days are long and the humidity is high. Spectacular sunsets often follow stormy afternoon skies.
Many endangered species are found in the Everglades, including the Florida Panther, Everglades Snail Kite, Wood Stork, American Crocodile, Key Deer and West Indies Manatee.
There are loads of stopping points as you travel from the best entry point in the East of the park, near Miami.
From the Anhinga Trail, going South to Flamingo is a pleasant drive, surprising the visitor with a variety of habitats and various locations worth exploring, like Mahogany Hammocks for Owls, Paurotis Pond for nesting Roseate Spoonbills (although here the birds are too far away for photography), and Mrazek Pond for a variety of waders and waterfowl when the water is low. It is not uncommon to see Red-Shouldered Hawks perched close to the road.
The lodge in Flamingo was devastated by the last hurricane and has not been rebuilt, but you can find campgrounds here. There is a marina with a store and boat rides. Osprey rule this part of the park, with six active nests this past season. White Pelicans and American Crocodiles are also seen in this estuarine environment. Both Pileated and Red-bellied Woodpecker nest in the vicinity of the marina. Hawks and Northern Harriers patrol the air.
A number of shorebirds can be found walking on the sandy beach. In the afternoon, be sure to have a wide angle lens to capture the sunset.
On the west side, by Tamiami Trail, Shark Valley provides another entrance to the park. This entrance is closed at night, and opens at 8:30 AM. This is a morning trip for photographers because of the sun orientation. If you don't mind walking, you can leave your car on the road, away from the No Parking signs. Walk in and you will surely find some wildlife along the canal. Here, Alligator are common and you will find them in large numbers. Always exercise caution when getting close to them. They are used to humans but care must be taken not to provoke an incident that could end in harm to humans or the animals.
Everglades City is the Western gate to the park. You can take boat tours in the Estuary, where Dolphins often follow the wake of the boat, or you can opt for a smaller and more adventurous ride through the mangroves. An air boat ride is a unique experience, even though wildlife is dispersed by the noise.
The best time to visit the park is the dry season, which runs roughly from December to April. The heat is more tolerable and there are fewer, if any, insects. Clear days make it very appealing as a vacation, and it is a great educational place in which to bring children of all ages in contact with nature.
For photographers, the early hours before dawn, the golden light before mid-morning, and the late afternoon hours till sunset provide the best opportunities for image making. In most areas, a medium telephoto lens is all you need to capture good images, although you will also find uses for your long lenses. Comfortable shoes, a hat, bug repellant and water should be with you at all times, as well as enough memory cards to capture your Everglades experience.