Time To Get Serious

Read The Info
July 9th, 2021 - Arrive Afternoon/Evening, dine & overnight at the Planet Lodge Hotel.
July 10 - Leave airport near hotel, drive to Tarangire National Park, tour the park, stay at the Lake Manyara Serena Safari Lodge.
July 11 - After an early breakfast (most are buffet), we will drive to the famous Ngorongoro Crater for a full day of "game drive" around the rim and inside the crater.  We stay overnight at the Ngorongoro Serena Lodge.  Seriously, click the links!  These lodges are incredible!
July 12 - Early Breakfast. Optional visit to Maasai Village for photo ops.  Then drive to The Serengeti with game drive along the way, and inside the park.  Overnight at the Mbuzi Mawe Serena Camp.  Seriously, if this isn't glamping, I don't know what is.
July 13 & 14 - Serengeti Game Drive - This is where you begin to see the vast expanse of the Serengeti.  Overnight at the Serengeti Serena Lodge.
July 15 & 16 - Serengeti Game Drive - Again, we will explore a new quadrant of the park each day.  Some areas are good for watching Wildebeest, some are better for Rhino, Elephant or Baboons.  Most areas are good for Lions, Cheetah & Leopard!  We've saved the best for last for your overnight at the Kubukubu Tented Lodge (Below).
July 17 - Our goal is to drive to one of the Serengeti airports and take a morning flight back to JRO airport in time for you to catch your evening flights back to the US.  it's about a 1 hour flight on a 12 seater airplane.  it's a beautiful flight.  Depending on the size of the group, we will book on an existing flight, or charter a plane.
July 17/18 - travel back to US.  (Rooms can be booked at the Planet Hotel for an additional cost for a full or partial day, if you want some "down time" before your flight home)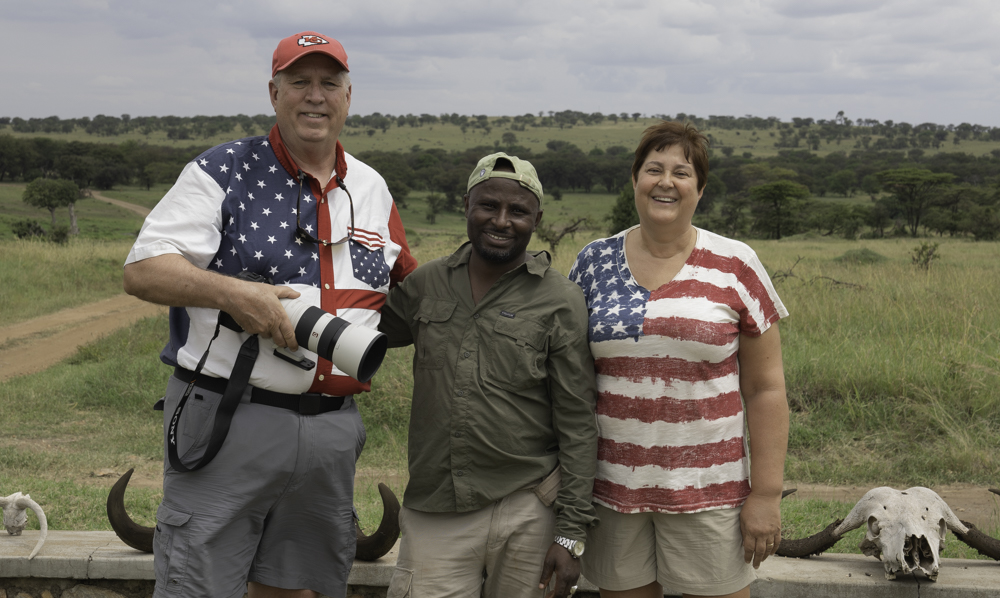 You don't get anywhere or see anything without a top notch team of guides.  We have one of the best! Yusuf Ngaina, owner of Plains To Peak came VERY HIGHLY recommended by Nikon Legend Behind the Lens photographer Reed Hoffman.  Mike & Cindy took a private safari trip with Yusuf about a month ago to get the experience.  We didn't feel we could take other people on the trip until we had done the trip ourselves!   Each day is designed to give us maximum time in the parks – from early morning until the park close at 6 p.m., we had the trip of a lifetime and now we're ready to share that experience with you!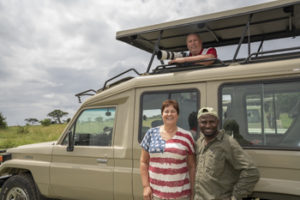 We will limit the trip to a maximum of 11-12 people.  This allows us to assign no more than 3-4 photographers per truck giving each person plenty of room to move around easily and never miss a shot.  Non-photographer attendees can sit up front with the guide.  Cindy did this on our trip and LOVED it!  11-12 people also allows quality photo interaction/education with Mike.  Truck assignments will change daily so everyone will have an opportunity to get to know each other and interact with Mike.
If you are sure you want to attend, we will ask each participant to make a $500 non-refundable deposit by Oct. 15, 2019.  This is a first pay first served trip and your deposit will hold your place.  If you definitely want to go, get your deposit in as soon as possible.
The remaining balance is due by December 15, 2019 for Plains To Peak to book the lodgings and the times we desire.
As soon as you sign up, Mike will set up a series of monthly meetings with you to begin teaching you about techniques and possible gear for the trip.
The cost of the trip will be about $7,500 per person.  This should be a "not greater than" number based on our most recent trip and a 6 participant minimum.  
INCLUDED:Photography input and coaching before, during and after the trip
Five Star Accomodations in the parks/all meals while on safari/all transportation
English speaking guide
National Park Fees
Bottled water supplied during game drives
Airfare from the Serengeti to JRO airport at the end of the safari
NOT INCLUDED:
Airfare to/from JRO Kilimanjaro International Airport . A recent price check on KLM came in at about $1,500 per person from KC – booking air as soon as possible is recommended to get the lowest fares
Travel Insurance - REQUIRED on all our international trips
Tanzania Visa - $100
Guide Tips ($100 per person recommended)
For those who decide to tour the Massai village, there is a cost of $25/person in cash
Beverages with meals
Laundry service (available at a reasonable price during our two-night stays)
Sign up here to get on the list if you are seriously interested.
Please complete the form below if you are interested in joining us.
There's Always Something New To Learn

Additional Photography Workshops

---