The next Portfolio Project will ramp up in the Spring of 2021.
---
"I've been so blessed in my photography career that I've designed this "pay it forward" program which will help raise your awareness and help build your skills more than almost any class or workshop I teach!"
Cost: A one time $15/person charge to cover admin expenses for Zoom.

This is a year long commitment to a photography project designed to teach EVERY level of photographer how to learn to "shoot with a purpose" rather than just "capturing images" of what's in front of you.
Are you ready to make a BIG commitment to yourself?  Are you ready to really look inside yourself?  See where the strength is, see what needs improving.  Learn how to plan your photoshoots so you will come out with the shots you're looking for.
Become a "Purposeful Photographer", not someone who just captures images.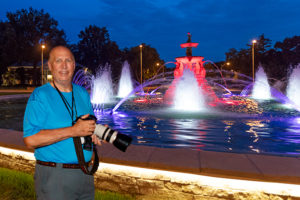 After having been a serious photographer for most of my life and a professional for the last several decades I have amassed loads of images in my "portfolio". A "portfolio" which included photographs of many different types from landscapes, character studies, portraits, architecture and documentary snapshots. Every time I developed a class, prepared for a lecture or seminar or put together a workshop I tried to include some of my most recent work, or some old time favs for my students or listeners to view and relate to. For many years I subscribed to the "more is better" approach but several years ago I was introduced to a new approach to viewing, organizing and selecting images to include in my presentations. I called it The Portfolio Project.
Bob Heinemann - Kansas City Icons At Night
Artist Statement
I enjoy the creativity of photography, especially night photography. Most of my photographs are taken at night, low light scenes like Milky Way, Night Sky and Star Trails. The contrast of the City Lights against the black night, or the golden glow of a sunrise, or the illumination provided by a full moon provide a completely new views of something familiar. I have done my job, as an artist, if these photos show an Icon the viewer is familiar with and utilizes a low light environment (between Sunset and Sunrise). The process I followed was to pick an Icon, determine the best day and time to create the unique composition. The preparation, research, challenges of taking low light photography, and the post processing are the reasons why I enjoy taking these pictures.

---
Mary Ann Teschan - Honor | Valor | Sacrifice
Artist Statement
REMEMBER!
Verb:  Have in mind, or be able to bring t0 one's mind an awareness of someone or something…
It's been 'A Journey'.  I emerge a year later astonished at where this journey has taken me.  Certainly not anywhere I would have anticipated when I began.
My goal is to challenge you to "Remember!".  Remember not only intellectually, but with heartfelt gratitude those individuals from WWI through today whose honor, valor, and sacrifice give us the freedoms we enjoy today.  Those freedoms were and continue to be hard fought/won.
By combining photographic techniques with artistic composition I offer a view of past & present which is familiar yet new.  It is my hope that as you view these images, you will see them with the 'eyes of your heart'.  These images are meant to be more than "pretty pictures".  May you carry these images in your heart as you leave today.
---
Terri Morris - Kansas City Vintage Signs at Night
Artist Statement
For my portfolio I want to capture the charm of the old vintage signs around Kansas City. I have fond memories from my childhood of looking out the car window and admiring all the beautifully lit signs as we traveled. These types of signs seem to be a dying breed. I want to photograph these signs before they are gone and replaced by digital ones.
Discern a photography project
Write an artist statement about your project
Schedule time to shoot and edit every month.  DO IT NOW!  On your calendar!
Meet with Mike Jensen & fellow participants every month to show your work, receive input, refine your portfolio.
Work to discern at least two to three projects.  Go out on some test shoots to see if this is viable to sustain for a year.
Consider whether you can return to the subject area to improve upon a shot.
Consider a project simpler than it needs to be.  Most first time participants will try to pick a "solve world hunger" type of project which will really bog them down.  Mike has veto/redirect power if needed!
Consider a project completely out of your comfort zone!  REALLY challenge yourself!
Bookmark the Zoom website so you can be ready.
Don't make this so hard on yourself by picking too hard of a project.
All images MUST be shot in the same year as the project, so NO previously taken images.  This is about improving your next best images, not showcasing your past images.
Don't NOT take this seriously.  This project can really help you improve if you take a good approach to it.
Don't NOT schedule time to shoot.  This is the biggest downfall of photographers wanting to improve, not scheduling time to shoot.
The Portfolio Project should be a fun one for ALL skill levels from beginner to advanced/professional.  Ideally you should have have a good knowledge of your camera and some editing skills.  These so you don't get frustrated trying to learn your camera while you're trying to become a better photographer.
PLEASE READ EVERY WORD OF THIS BEFORE PROCEEDING.
Below is the registration form for the portfolio project.  Once you have completed the form and clicked Submit, you will be redirected to a Paypal web page to pay the $15 admin fee.
Once both have been completed, you should receive two emails confirming the registration.