---
---
---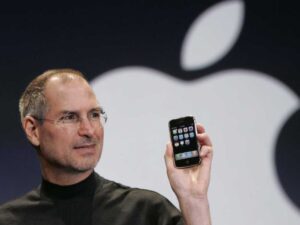 Join Mike Jensen as he gives you his take on the Future of Photography, updated for 2020.  With mirrorless making MAJOR moves on DSLR's and Adobe losing the favor of the faithful due to doubling the price of their Photographer's Bundle, the future is changing all the time!
Mike's take is that the Future of Photography REALLY started on January 9th, 2007.  Some days are just made to stand apart. Although that January day may not be remembered as an iconic day by most people, the fact is that it probably went on to revolutionize more lives than nearly any other in recent memory. How we live now was largely redefined by that day.   Because for the masses, you REALLY can't have "the future's" digital photography without….the iPhone.  The iPhone started the technology that created the demand and ability to take more pictures "on the go" annnnnnnnnd wait for it.......SHARE THEM!
On January 9th, 2007, Steve Jobs introduced the iPhone, and we began our inexorable march to today's app-based life.  A few short months later, Canon released the EOD D30 and the consumer level DSLR market had started.  This is not a coincidence!  It is, if you will, the adaptation of the art.  You see, without the introduction of the iPhone, and the technology that put a camera in a phone, the pro and hobbiest camera market doesn't grow like it has.
---
"...you REALLY can't have "the future's" digital photography without….the iPhone.  The iPhone started the technology that created the demand and ability to take more pictures "on the go" annnnnnnnnd wait for it.......SHARE THEM!"
---
     Mass production of the iPhone and the competition behind it really gave camera makers the kick in the butt they needed to REALLY commit to digital.  Before that, there was snail paced innovation.  After that, true competition began!
     When the competition began, the media as an art form began to change about every 3-5 years.
    For me, the more important date was Sept. 17, 2008.  The day Canon announced the 5d Mark II.  The Canon EOS 5D Mark II was a 21.1 effective megapixel full-frame CMOS digital single-lens reflex camera.   The first Canon EOS camera to have video recording capabilities.  And that was HUGE!  I bought mine about a month later at Photoshop World in Las Vegas.
     So now, here we are in 2020.  We have several more generations of the Canon 5d camera, we have the Nikon D850 and then there's Sony.  Yes, Sony with the obscure, intricate menu system is now the leader in the camera world, for now.  Their flagship cameras the A7RIV and the A9 lead the pack for nature, wildlife, sports & action.
     So what does all this mean for the everyday photographer as well as those aspiring to higher levels?  Now, with all those iPhones, Androids, Canons, Nikons, Sony's, Fujis, Olympus etc. etc. etc. we are quickly approaching 1 Trillion photos taken in a year, so how do we take photos to make ourselves learn, grow, be self-fulfilled and stand out?
---
DID YOU KNOW?
Instead of film, digital cameras use a charged-coupled device or "CCD" to convert light to an electronic file such as a JPEG or camera RAW file. The CCD has a layer composed of a photosensitive capacitor array which senses light of different intensities therefore transferring the relative data to the camera's processor.  In January 2000, Fuji announced what has become regarded as the first consumer-level DSLR, the S1-Pro. By today's standards, it was primitive, a 3MP sensor built around a Nikon film body. It was also not cheap at $3500, but that still put it in range of the many rather than the few.
So Where Is The Future of Photography Going?
Photography Will Follow The Technology, But We Still Need To Be Good At The Basics. And the basics are changing.
---
You read that right, photography will follow the technology, in my opinion.  We as photographers may sit around at camera club, or exhibits, workshops etc. and say, "Wouldn't it be great to have a camera that does….."  We'll, amazingly enough, people listen. And then manufacturers create and test and deploy.
If photography didn't always follow technology, we'd still be shooting with pinhole boxes, glass negatives and have loads of chemicals.
Now we have light, compact and powerful cameras and lenses and we argue about the merits of learning how to use the digital lightroom (Yes, you need to learn it!).  Not learning how to digitally edit (and print) your photos is like snapping them and never looking at them.
---
Mike's Suggestions For Ongoing Improvement
My first suggestion is that you sign up for my e newsletter.  Once you do that I'll shoot you an email with several bulleted suggestions.
Also, if you're in a camera club or a civic group, I do lectures on photography and it's ins and outs.  I'd love to talk to your group!
Every month I send informative e newsletters out to my followers about once a month. My e newsletters are always full of tips and info for improving your photography as well as any upcoming lectures, programs and workshops that he may be doing. PLEASE feel contact me regarding a speaking engagement or any photography question you may have.
---
Here's an easy form to sign up for Mike's E Newsletter