During the last weeks of July one of my favorite photo trips to take is to Gunnison and Crested Butte, Colorado  for the annual Crested Butte Wildflower Festival.
We were overwhelmed by the volume and diversity of the wildflowers in this beautiful area.We found two main resources for "miles of wildflowers", Washington Gulch and Gothic Road. Both are located north of the Crested Butte ski area.
Washington Gulch is off a road before entering the community of Mt. Crested Butte.
Gothic road extends out of Crested Butte through Mt. Crested Butte and continuing north as a gravel road.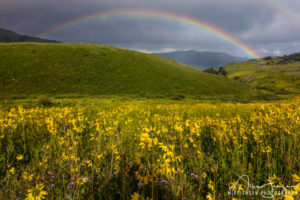 Crested Butte, designated the "Wildflower Capital of Colorado" since 1990, plays host to the Crested Butte Wildflower Festival every summer. While flowers are in bloom from early June through the end of August, the peak of the season, with the greatest number of flower varieties in bloom at once, typically takes place in mid-July, coinciding with the week-long festival.
With a brochure we picked up at the Chamber of Commerce, we counted over 70 different wildflower species in the valley. Some, like Lupine bloom very early in the season (We were told third week of June was the peak time for Lupine).


The yellows dominate the landscape purely due to their volume.  They cover entire valleys and hills!  Included in those are Curlyhead Goldenweed, Sneezeweed (Orange), and the Mule's Ear Sunflower.
There are alot of purples as well including the Penstemon.Some of my favorites were the Blue Columbine and the Showy Fleabane.
I also love Indian Paintbrush but we found very little of it until we hiked up to about the 10,000 foot level.  There the paintbrush was more abundant in patches rather than dotted around.